Chi Nei Tsang Massage II – Brussels, Belgium
10 October 2017 @ 9:30

-

12 October 2017 @ 19:00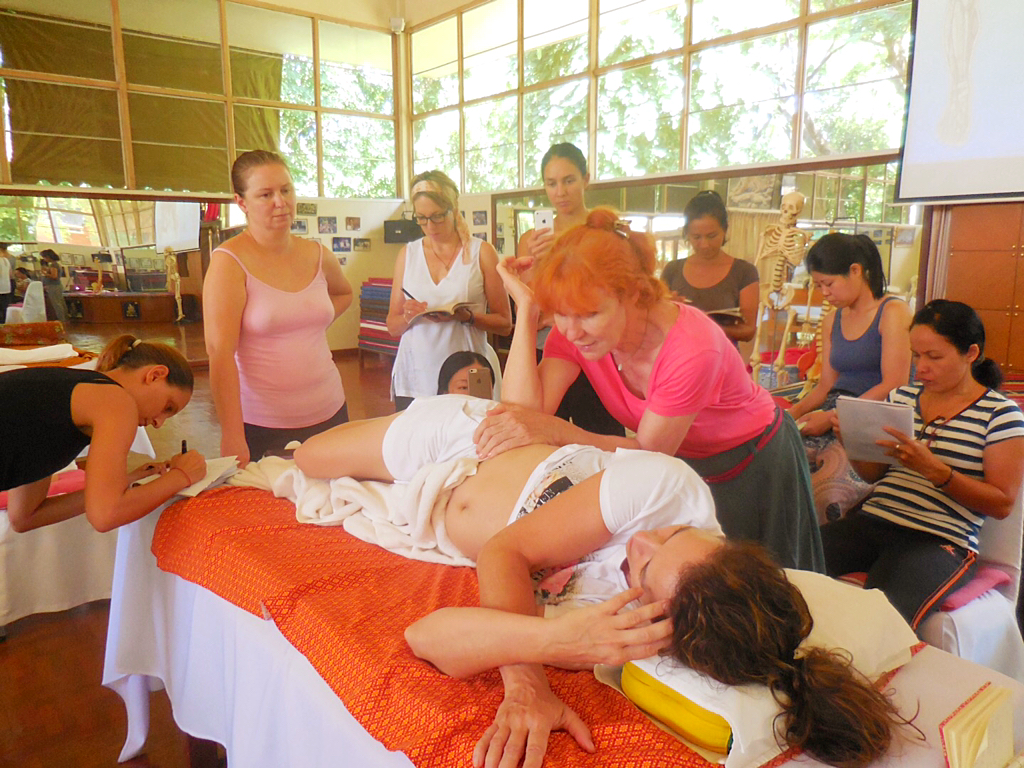 Event Overview
Dates: October 10 – 12, 2017
Location: Brussels, Belgium
Languages Spoken: English and translated to French with a live interpreter (Jutta parle en anglais et la classe sera traduit 'live' en français par un instructeur Tao)
Registration: Please contact the event organizer to register (contact details below) and visit the event website
Tuition Fee: 350 € (325* Early Bird Rate if registered by end of June 2017. If you attend more than one of Jutta's workshops while she is in Brussels October 6 -12, 2017, you can get a discount. More details below.)
What You Will Learn
In the Chi Nei Tsang II workshop, we expand on the knowledge and massage techniques learned in Chi Nei Tsang I and we primarily focus on working to release the trapped winds in the body.
In this course, you will learn about the Twelve Winds, how to chase and discharge them from the body and how to inject good Chi back into the vital organs and glands. If properly addressed, the destructive impact of these immaterial and invisible wind forces can be avoided and considerable harm prevented.
We use the elbow in a highly effective technique to release trapped winds from deeper parts of the intestine and the body. In this way, the practitioner is able to assist students with chronic and acute challenges in internal tissues, organs and energy systems to improve and restore their health.
In addition to improving overall health and vitality, Chi Nei Tsang II Massage can help with:
Digestive problems, such as irritable bowel syndrome, bloating and constipation

Detox through elimination of toxins in the gastrointestinal tract and promoting lymphatic drainage

Releasing various pain and tension including neck and related headache pain and lower back pain or issues with the sciatic nerve

Alleviating asthma symptoms  

Improving circulation and cardiovascular health

Women's health conditions including endometriosis and menstrual problems

Men's health conditions including infertility and impotence
Benefits students experience during the workshop:
Learn effective massage techniques and an Eastern medicine perspective of healing of oneself and assisting others in their healing.

Detox – Because we practice the wind-releasing massage techniques on each other throughout the workshop, you will receive the benefits of Chi Nei Tsang II massage with physical and emotional detox.

As a result, you may experience: increased energy and positivity, relaxation and stress relief, a stronger connection to spirituality and possibly a release of negative emotions or experiences.

Participants often report that they feel a great relief of heaviness or emotional burden and many also experience relief of pre-existing physical discomfort or pain. 
Event & Pricing Details
Please prepare for this event:
Please bring a yoga mat with you and massage oil with you. We also recommend that you wear loose-fitting clothes and that you eat light, easily digestible food for a few days before and during the course as this is work on the abdomen. This is an excellent time for detox but not fasting.
Pricing & Workshop Schedule
Jutta will be teaching several workshops in Brussels from 6 – 12 October 2017. Below are the details for pricing for each workshop. To attend just Chi Nei Tsang II, it is 350 € (325* Early Bird Rate if registered by end of June 2017). You must contact the event organizer to register (contact details below).
6 October from 10.00 – 12.15 Inner Alchemy Astrology 
Tuition Fee: 10 € (first day morning)
6 October from 14.00 – 18.45 Detox your body and emotions with Chi Nei Tsang Self Massage
Tuition Fee: 55*/60 € (first day afternoon)
7 – 9 October from 9.30 – 18.45 Chi Nei Tsang 1 with Certificate
Tuition Fee: 325*/350 € (CNT 1 – 3 days)
10 – 12 October from 9.30 – 18.45 Chi Nei Tsang 2 Certificate  
Tuition Fee: 325*/350 € (CNT 2 – 3 days)
Bulk Pricing Discounts
If you attend both Chi Nei Tsang workshops (CNT 1&2) the cost is 595*/650 €. If you attend all 7 days of workshops, the cost is 615*/670 €. If you just attend one day, the cost is 95*/120 €.
*notes the Early Bird Registration rate. Must register by June 30, 2017 to get this rate. 
Cancellation Policy 
If you need to cancel your workshop registration, here are the directions from the event organizer. We reimburse you the amount paid minus 20% of the course fee until a week before the course starts and after that, but before the course starts, minus 50% of the course fee. No reimbursement possible once the course has started.
Accommodation Information
Accommodation is possible at the event venue, La Maison de Nôtre Dame de Chant d'Oiseau, but if you wish to stay here you must book through the workshop event organizer, natkova@hotmail.com. When you stay at this location, all meals are included in the nightly rate.
In the case that this venue is fully booked, it is recommended you use AirBnB to find nearby accommodation.
Travel Information
You can take Bus 36 and get off at stop "Chant-d'Oiseau" to arrive at the event venue. Free parking is also available if you choose to drive. 
Become A Practitioner
If you are interested in becoming a Chi Nei Tsang II practitioner, you must follow these steps:
Attend 28 hours of teachings with Jutta or another qualified CNT Senior Teacher

After attending first CNT II workshop, collect 100 case studies (minimum 18 persons for 5 sessions) (10 case studies in single sessions)

Attend a second CNT II workshop or retreat and present the 100 case studies to the qualified CNT Senior Teacher the first day of the workshop

Be evaluated in theory and practice by Jutta, Master Chia or another CNT Senior Teacher
Learning Resources
I generally recommend all students first join for a Chi Nei Tsang I workshop or retreat first before joining me for Chi Nei Tsang II in order to have a foundation and understanding of these massage techniques. If you are interested in learning more about what you will learn at this workshop, here are some resources:
Blog posts you may be interested in:
More information on Chi Nei Tsang:
Books:
Related YouTube videos: 
 

How To Register: To reserve your seat for this workshop, please contact the event organizer via their website or by phone or email (contact details below).
Questions?

Questions? 

If you have questions about this workshop's location, pricing or registration, the best contact is the event organizer (contact information below). They will be able to answer all your questions on those details. If you have questions about what I teach, I'd be happy to connect with you. Please email me at

hello@juttakellenberger.com

.
Interested in Private Teaching?

Private Teaching or Treatments

– I

 will be in this city for a short time, and if you would like private teaching outside of this workshop or a Chi Nei Tsang Massage treatment from me while I am there, please connect with me in advance. Although I get many requests during my time abroad, I will do my best to meet with you. You can email me at

hello@juttakellenberger.com.