Fusion of the Five Elements & Tao Yin Workshop – Paris, France
17 October 2017 @ 9:30

-

19 October 2017 @ 17:30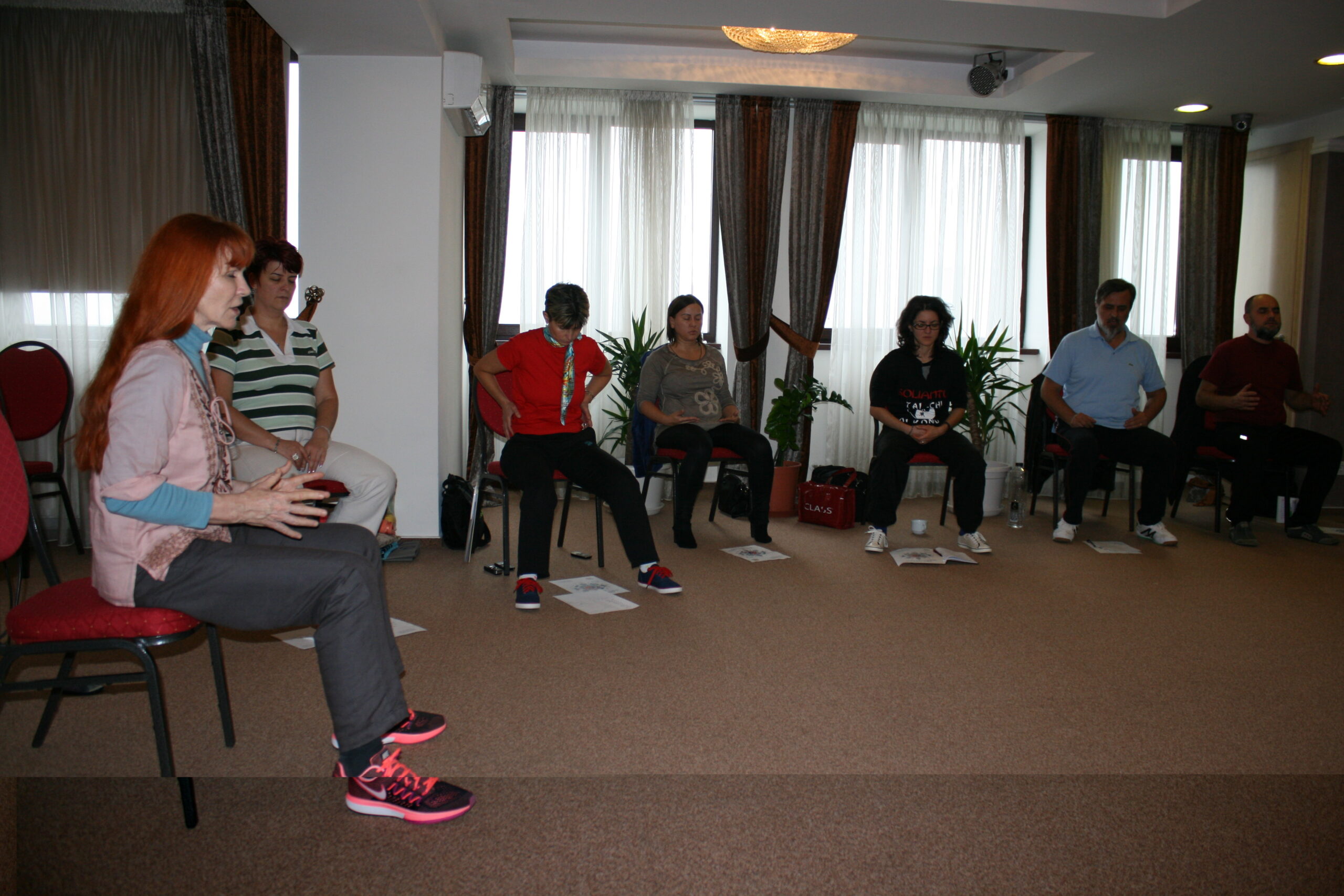 Event Overview
Dates: October 17 – 19, 2017
Location: Paris, France
Languages Spoken: English and translated to French with a live interpreter (Jutta parle en anglais et la classe sera traduit 'live' en français par un instructeur Tao)
Registration: Please contact the event organizer to register (contact details below) and visit the event website
Tuition Fee: 290 € (The rate is reduced to 270 € if you register by June 30, 2017. If you attend more than one of Jutta's workshops while she is in Paris October 13 -19, 2017, you can get a discount too. More details below.)
What You Will Learn
In the Fusion workshops (I, II & III), we focus on balancing and condensing our internal energy to connect with the Source and download the information from the Universe to expand our spiritual practice. In addition to the advanced energy cultivation meditations, we also practice forms of Chi Kung that complement and enhance our meditation practice.
Fusion is a powerful practice that further opens channels in the body using the eight forces of the Pakua. Negative energy is transformed and made to blend with positive energy which is then fused into a pearl of pure life-force energy and circulated in the Microcosmic Orbit. With each level of Fusion (I, II & III), we work to open different channels in the body.
In this workshop, we will also practice Tao Yin. Tao Yin is a series of revitalizing exercises that develop flexibility, strength, resiliency, and suppleness. These exercises create harmony within the body, mind and spirit through their integrative principles. Tao Yin means 'directing energy' and this helps us to release chronic tension, energy blockages, and toxicity that may have accumulated in the body over many years. These exercises activate Chi flow in the meridians, opening and strengthening them.
Prerequisites: In order to get the most value from the teachings in the Fusion I workshop, I recommend first joining for Universal Healing Tao workshop that teaches the foundational practices and/or the Female Healing/Men's Health/Healing Love workshop. Having this foundation will allow you to be able to better understand the Fusion practices and be able to incorporate the teachings into your daily life.
Benefits students often experience during the workshop:
Students may become aware of deeper layers of consciousness and then be able to transform and release what no longer serves them in order to redeem a higher nature.

Due to this release, energy may be felt more strongly in the body and be able to flow more freely in the meridians.

Fusion practices will improve health, provide a deeper sense of self and increase compassion for oneself and others.
Over time, the benefits of these practices are only enhanced.
Event & Pricing Details
Jutta will be teaching several workshops in Paris from 13 – 19 October 2017. You must contact the event organizer to register (contact details below). Below are the rates for each event, and if you attend more than one workshop, you can get a discount. If you attend all 7 days the rate is 495*/540€. Or if you only want to attend one day of any workshop the rate is 95*/105€ per day.
13 October from 18.30-21.30 Introduction to Energy love and the Tao
Tuition Fee: 30 € (first day evening)
14 -16 October from 9.30 – 17.30 Healing Love with basic practices
17-19 October from 9.30-17.30 Fusion of the Five Elements & Tao Yin
*notes the Early Bird Registration rate. Must register by June 30, 2017 to get this rate. 
Cancellation Policy 
If you need to cancel your workshop registration, here are the directions from the event organizer. We reimburse you the amount paid minus 20% of the course fee until a week before the course starts and after that, but before the course starts, minus 50% of the course fee. No reimbursement possible once the course has started.
Accommodation & Travel Information
The event venue (details and map below) is in the centre of Paris. Accommodation is not possible at the event venue, so it is recommended you use AirBnB to find nearby accommodation. The event organizers can also provide more suggestions on possible hotels to stay if you need.
Travel by Metro or Bus: 
The venue is near metro/bus stops –  St Placide, Montparnasse, St Falguiere. Buses: 96, 95 & others stop Rennes/Litré. The venue is minutes from Place Montparnasse.
Because this venue is located in the center of Paris, parking is difficult so it is recommended that you take metro or bus to arrive.
Learning Resources
Here are some additional resources you may be interested in but are not required to review before the workshop.
Blog posts you may be interested in:
Books:
Related YouTube videos: 
 

How To Register: To reserve your seat for this workshop, please contact the event organizer via their website or by phone or email (contact details below).
Fusion of the Five Elements & Tao Yin Workshop – Paris, France, October 17 – 19, 2017
Questions?

Questions? 

If you have questions about this workshop's location, pricing or registration, the best contact is the event organizer (contact information below). They will be able to answer all your questions on those details. If you have questions about what I teach, I'd be happy to connect with you. Please email me at

hello@juttakellenberger.com

.
Interested in Private Teaching?

Private Teaching or Treatments

– I

 will be in this city for a short time, and if you would like private teaching outside of this workshop or a Chi Nei Tsang Massage treatment from me while I am there, please connect with me in advance. Although I get many requests during my time abroad, I will do my best to meet with you. You can email me at

hello@juttakellenberger.com.